Z Custom Testimonials: Mitch Boehm, Motorcyclist Magazine

This article appears courtesy of Motorcyclist Magazine, December 2001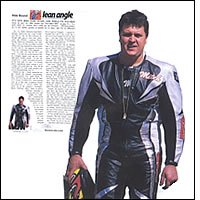 It's new bike time again and while I'm psyched about the new-for-2002 models (see "New Bikes 2002" on page 33), I've gotta admit it's cowhide that's really got my attention. (Motojournalists are to new leather goodies as junkies are to dope, and I'm no different!)
See, I've finally retired my trusty black-and-gray Vanson race suit, a suit I've had since late '93, and one that's followed me through eight years of track tests, photo shoots, and AHRMA (American Historic Racing Motorcycle Association) race meetings. It's also a suit that, according to certain staffers who'll go unnamed but whose initials are M.C. and J.N., has appeared for far too many years in the pages of this magazine.

I'm not really sure what the fuss is all about. I love that suit, mostly because it fits my strangely shaped body and isn't skin tight and/or weirdly colored. I've also not crashed in it, a nearly miraculous fact given all the track miles it's seen. I've become almost superstitious about wearing it-as if I simply can't crash with it on. Plus, like all Vanson gear, it's built tough enough to survive an Iraqi battlefield, circa '91.

Despite all that, I finally heeded the vulgar catcalls and dramatic nose-pinching that accompanied every public display of those well-worn Vansons and took the folks at Z Custom (714/890-5721; www.zcustom.com) up on their offer to build me a brand-new custom suit. Z Custom's Debbie measured me in the company's Huntington Beach, California, office, where we spent a half-hour choosing a design and colors, and roughly two-weeks later I found myself back there trying it on. Standing before the mirror in the showroom to see how successfully the suit's hourglass stripes hid my substantial girth (not as much as I'd hoped), I realized I'd forgotten how cool it was to step into a new set of custom leathers for the very first time…the clean lining, the smell of the hide itself, the perfection of the lettering and, hopefully, the perfect fit.

The whole experience had me flashing back to my very first set of "leathers": a pair of Wheels of Man (remember them?!) vinyl MX pants I used in '75 on my XR75-my first, full year of motocross. Things improved the following year with a pair of buttery-soft Pierre Karsmakers-replica customs Bates pants; I can still remember their smell when I opened the Bates box Christmas morning.

Real street leathers didn't come until '84-a secondhand Bates suit purchased originally by a budget-conscious club racer. They were linerless, which put the rough side of the hide right against my skin-so removing them after a race at Willow Springs on a 100-degree-Fahrenheit day took some doing. (Today it's called exfoliation.) They were stinky, sweat-stained, ill-fitting, and, without a liner, would've been extremely tough on my epidermis had I fallen off in them, but I loved 'em anyway.

Actually, the incentive to get a new suit went above and beyond bad odors and worn, faded hides or the constant taunting that went with them. The Z Custom suit, like most of the top-shelf leathers coming from today's established makers, is both highly protective (even more so than the bulletproof Vanson suit it replaces) and superbly detailed, offering such features as venting, stretch sections in key areas for ease of movement, improved armor, a built-in back protector, etc.

So the catcalls and the nose-pinching have stopped. But that doesn't mean I'll be tossing those crusty old Vansons. I figure I'll pull 'em out on wet race days.
Just don't tell Cook or Norem.
Mitch Boehm, Editor in Chief