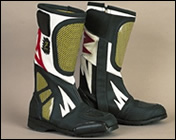 Our top of the line Pro Racer Boot features lightweight, highly protective Carbon Kevlar panels, and high impact skin padding, together with soft panels at the outside ankle where flexibility is needed. There's a double layer leather at the toe and heel panels, replaceable Velcro attached toe sliders, and upper calf sliders. The Black leather areas also feature our exclusive Carbon Fiber embossing to complete the unique styling look and added additional durability. The Red and White leather areas can be changed to your choice of matching team/bike colors. Shown with Pro Racer "Lightening Graphics".

Ordering Kit & Catalog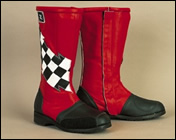 Have it your way at Z Custom Leathers. The tradition Z Sport Racer Boot with your choice of suit matching colors and graphics, large double leather layer toe and heel panels, high impact shin padding, and Velcro toe sliders

Ordering Kit & Catalog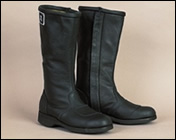 The Roadster in basic Black offers both versatility and comfort for all-day riding and walking. The hidden inside leg zipper ends at mid calf with an adjustable Velcro flap on the upper half of the boot closure. This allows leather pant legs to be tucked inside for serious riding, or jeans worn outside for more casual riding days.

Ordering Kit & Catalog